Welcome to Almar Demolition, your trusted demolition contractor in Toronto, Ontario, serving the Greater Toronto Area. With years of experience and an impeccable reputation, we take pride in offering expert demolition services, backed by a licensed team of professionals who understand the building code in the province of Ontario. In this article, we will explore the numerous benefits of hiring a demolition contractor like Almar Demolition for your DIY projects. From ensuring safety and efficiency to being environmentally conscious and providing competitive pricing, we have you covered.
We've Seen It All – We Know How to Do It Right Without Making More Damage
One of the key advantages of hiring a demolition contractor is the experience they bring to the table. At Almar Demolition, our team has encountered a wide range of projects, from residential demolitions to commercial site clearances. This extensive experience allows us to assess the specific needs of your project accurately, ensuring that the demolition process is carried out efficiently and without causing unnecessary damage.
DIY demolitions can quickly turn into disasters if you're not familiar with the intricacies of the structures and their potential weaknesses. Our experts have the knowledge and skills to identify potential hazards, such as load-bearing walls, utility lines, or asbestos-containing materials, and take the necessary precautions to handle them safely.
Licensed Team of Demolition Experts
When it comes to demolition, safety is paramount. As a licensed demolition contractor in Toronto, Almar Demolition ensures that all our team members are highly trained and possess the required certifications to handle various demolition tasks. Our experts are well-versed in the latest industry practices and safety protocols, guaranteeing a safe and secure demolition process for your DIY project.
Attempting demolition without the right qualifications can lead to serious accidents, injuries, or even legal consequences due to potential violations of building codes and regulations. By entrusting your project to Almar, you can have peace of mind knowing that it will be handled professionally and in compliance with all safety regulations.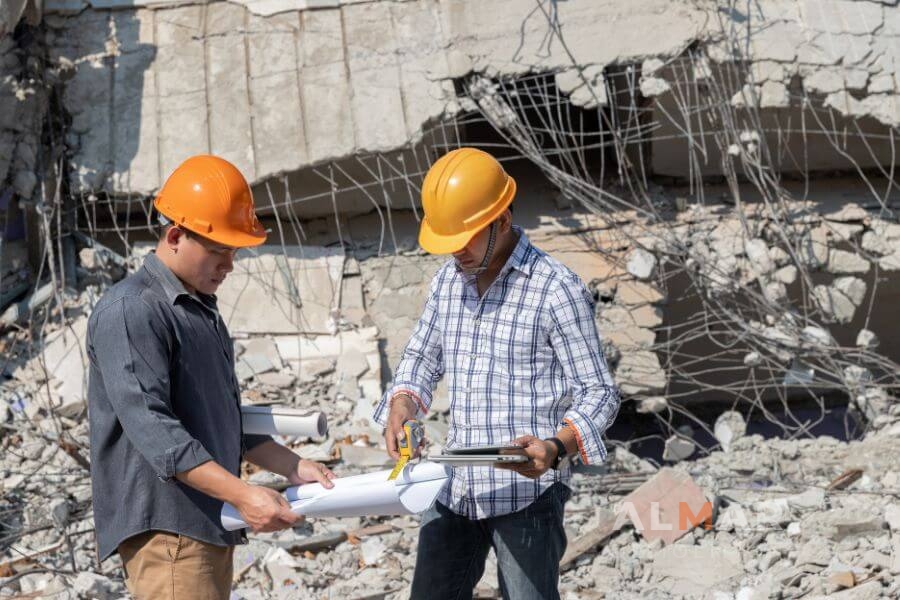 Strict Adherence to Safety Regulations and Protocols
At Almar Demolition, safety is at the forefront of every project we undertake. We understand that demolition can be a hazardous activity, and that's why we follow stringent safety protocols to protect our team, your property, and the surrounding environment. From wearing the appropriate personal protective equipment (PPE) to implementing site-specific safety plans, we leave no room for compromise.
Our strict adherence to safety regulations also extends to proper waste disposal. After completing the demolition, we ensure that all debris and materials are appropriately sorted and disposed of, in accordance with local regulations. By choosing us, you eliminate the risk of improper waste handling, which can lead to fines and negative environmental impacts.
We Use Modern Equipment for Efficient Demolition
Another advantage of hiring a professional demolition contractor like Almar is access to state-of-the-art equipment. Our company invests in the latest technology and tools, allowing us to execute demolitions efficiently and with precision. Modern equipment not only speeds up the demolition process but also minimizes disturbances to surrounding structures and reduces the risk of unexpected damage.
When opting for a DIY approach, you may lack access to specialized equipment, leading to a more labor-intensive and time-consuming demolition process. With Almar Demolition, you can rest assured that we have the right equipment for any demolition scenario, ensuring optimal results for your DIY project.
Environmentally Conscious Approach to Demolition & Disposal
As an environmentally conscious demolition provider, Almar takes proactive steps to minimize the environmental impact of our work. Demolition can generate a significant amount of waste, but we prioritize recycling and responsible disposal of materials wherever possible. Salvaging reusable materials not only reduces landfill waste but also benefits the local community and promotes sustainability.
Choosing a DIY demolition can result in a higher likelihood of materials ending up in landfills, as you might not have the resources or knowledge to recycle them properly. By partnering with Almar, you contribute to a greener future while ensuring that your demolition project is handled in an eco-friendly manner.
Competitive Pricing and Free, Detailed Quotes for All Projects
At Almar Demolition, we believe in transparent and competitive pricing. We offer free, detailed quotes for all projects, providing you with a clear understanding of the costs involved before any work begins. Our pricing structure is designed to be fair and honest, ensuring that you receive excellent value for your investment.
Attempting a DIY demolition may seem cost-effective initially, but hidden expenses can quickly add up. Lack of experience might lead to accidental damage, necessitating costly repairs or even reconstruction. By hiring Almar, you avoid such risks and enjoy the peace of mind that comes with a well-documented and reasonable pricing approach.
Timely Completion of Projects to Minimize Disruption
As a reputable demolition contractor, Almar understands the importance of timely project completion. We strive to minimize disruption to your schedule and ensure that the demolition process is completed efficiently and on time. Our experienced team plans the project meticulously, eliminating unnecessary delays and ensuring smooth execution from start to finish.
DIY demolitions can be unpredictable and often lack proper planning. Unexpected challenges may arise, leading to extended project timelines and increased stress. By working with Almar, you can rely on our expertise to handle any obstacles efficiently, ensuring that your DIY project stays on track.
In conclusion, hiring a demolition contractor like Almar Demolition for your DIY projects offers numerous benefits that extend beyond just convenience. Our team's experience, commitment to safety, use of modern equipment, and environmentally conscious practices set us apart as a trusted and reliable demolition provider in Toronto, Ontario, and the Greater Toronto Area.
With our licensed experts handling your demolition, you can be confident that your project will be completed efficiently, adhering to all safety regulations and environmental standards. Our competitive pricing and detailed quotes ensure transparency and cost-effectiveness, while our timely completion of projects minimizes disruption to your schedule.
When it comes to demolition, don't take unnecessary risks. Trust Almar Demolition, your expert demolition contractor, to deliver on our promise of safe, efficient, and environmentally conscious demolition services. Contact us today at (647) 575-5085 for a free quote and let's make your DIY project a resounding success.