When it comes to demolition projects, there's no room for mistakes or shortcuts. As the owner of Almar Demolition, a reputable and experienced demolition provider in the Greater Toronto Area, we understand the significance of hiring a professional team with the right expertise and knowledge of building codes in the province of Ontario. Our commitment to excellence, safety, and efficiency has earned us an outstanding reputation in the industry. In this article, we will explore why choosing an experienced and expert demolition contractor like us is essential for any demolition project.
We've Seen It All – Doing It Right Without Making More Damage
Over the years, we have encountered a wide range of demolition projects, from small residential structures to large commercial buildings. Our vast experience has taught us the ins and outs of various demolition scenarios, allowing us to tackle each project with precision and care. No two projects are the same, and having a team that has "seen it all" enables us to identify potential challenges and develop the most suitable demolition plan for your specific needs.
One of the most significant advantages of hiring an experienced demolition contractor is the ability to minimize unnecessary damage during the demolition process. Inexperienced or unprofessional contractors may overlook critical aspects of the project, leading to unintended harm to surrounding structures, utilities, or the environment. Our expertise ensures that the demolition is carried out efficiently and safely, leaving you with a clean slate for your new construction or development.
Licensed Team Of Demolition Experts
As a leading demolition provider, Almar Demolition takes pride in having a fully licensed team of demolition experts. Our team members are not only skilled but also undergo regular training to stay updated with the latest techniques and safety regulations. Choosing a licensed contractor gives you the peace of mind that your project is in capable hands and complies with all legal requirements.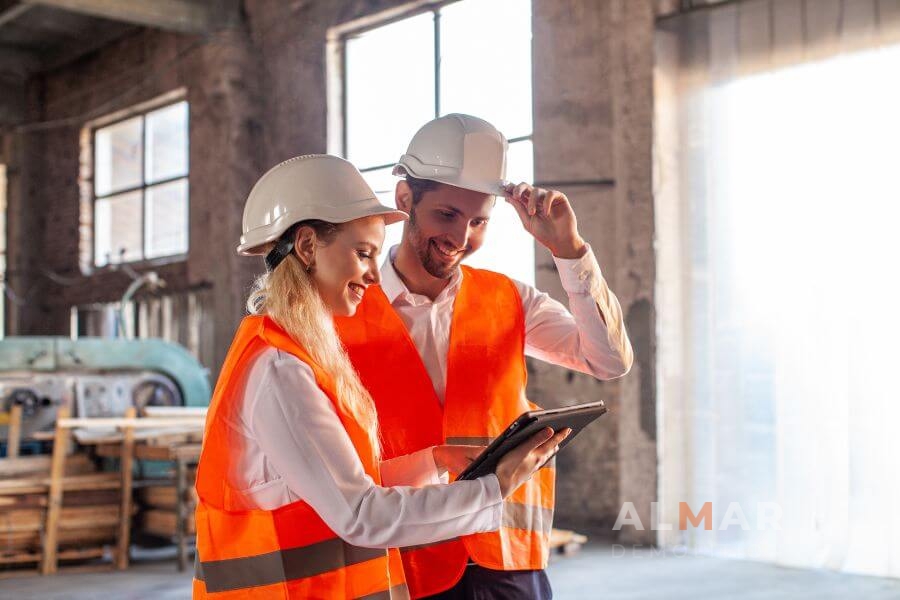 Strict Adherence To Safety Regulations And Protocols
Safety is our top priority at Almar Demolition. We understand the potential risks associated with demolition work, and we take all necessary precautions to protect our team, clients, and the general public. Our adherence to safety regulations and protocols is unwavering, ensuring a secure working environment and minimizing the chances of accidents or injuries.
By hiring an experienced demolition contractor like us, you mitigate the risks that come with inexperienced or non-compliant companies. Our track record of safe and incident-free projects speaks to our commitment to maintaining the highest safety standards.
We Use Modern Equipment For Efficient Demolition
In the fast-paced world we live in today, technology plays a crucial role in every industry, including demolition. At Almar Demolition, we embrace innovation and employ modern equipment to carry out efficient and precise demolitions. The use of advanced machinery not only speeds up the process but also enhances safety and accuracy, reducing the margin of error.
Our investment in cutting-edge equipment demonstrates our dedication to providing top-notch demolition services to our clients. When you choose us, you can be confident that your project will be handled with the latest tools and techniques in the industry.
Environmentally Conscious Approach To Demolition & Disposal
Environmental responsibility is a vital aspect of any demolition project. Improper handling of materials and waste can lead to harmful consequences for the environment. At Almar Demolition, we take an environmentally conscious approach to demolition and disposal.
Throughout the demolition process, we prioritize recycling and salvaging materials whenever possible. Our team carefully separates materials for recycling, reducing the amount of waste that ends up in landfills. By choosing an environmentally conscious demolition contractor, you contribute to sustainability efforts and demonstrate your commitment to responsible construction practices.
Competitive Pricing And Free, Detailed Quotes For All Projects
We understand that budget plays a significant role in any construction or renovation project. As a company committed to transparency and client satisfaction, we offer competitive pricing without compromising the quality of our services. Our free, detailed quotes ensure that you have a clear understanding of the project's costs and scope before we commence work.
When selecting a demolition contractor, it's essential to consider the overall value you'll receive. We provide excellent service at a fair price, giving you peace of mind that your investment is in capable hands.
Timely Completion Of Projects To Minimize Disruption
In the construction industry, time is money. Delays can lead to additional costs and disruptions to your overall project timeline. As experienced demolition experts, we understand the importance of meeting deadlines and strive to complete all projects on time.
Our efficient and well-planned approach to demolition allows us to minimize the impact on your construction schedule. You can rely on us to handle the demolition process promptly, ensuring a smooth transition to the next phase of your project.

Choosing the right demolition contractor can make all the difference in the success of your project. At Almar Demolition, we take pride in our years of experience, extensive knowledge of Ontario's building codes, and our outstanding reputation in the Greater Toronto Area.
Our licensed team of demolition experts ensures that your project is handled with the utmost professionalism and expertise. We strictly adhere to safety regulations and use modern equipment to achieve efficient and precise demolitions. Additionally, our environmentally conscious approach reflects our commitment to sustainability.
When you partner with Almar Demolition, you can expect competitive pricing, timely project completion, and a dedication to delivering on our promises. Your satisfaction and the success of your project are our top priorities. Contact us today at (647) 575-5085 for a free, detailed quote and experience the difference that an experienced and expert demolition contractor can make. Let Almar Demolition be your trusted partner in turning your construction and renovation dreams into reality.