Welcome to Almar Demolition, your trusted expert demolition provider with years of experience in handling demolition projects in the Greater Toronto Area. At Almar Demolition, we take pride in our deep understanding of the building code in the province of Ontario and our impeccable reputation for delivering outstanding services to our valued clients. Our commitment to excellence, safety, and environmental consciousness sets us apart in the industry.
In this article, we will delve into how Almar Demolition handles salvageable materials during our demolition projects. We believe in minimizing waste and maximizing the potential for recycling and reuse, which aligns with our environmentally conscious approach to demolition and disposal. Read on to discover how our licensed team of demolition experts carefully salvages materials while ensuring a strict adherence to safety regulations and protocols.
The Almar Demolition Approach: Doing it Right Without Making More Damage
At Almar Demolition, we approach every project with a wealth of experience, having "seen it all" in the demolition industry. Our team understands that demolition is not just about tearing down structures; it's about doing so efficiently and responsibly. Salvageable materials, such as wood, metal, and fixtures, can be salvaged and repurposed rather than ending up in landfills. This requires careful planning and execution, ensuring that the demolition process does not cause unnecessary damage to reusable elements.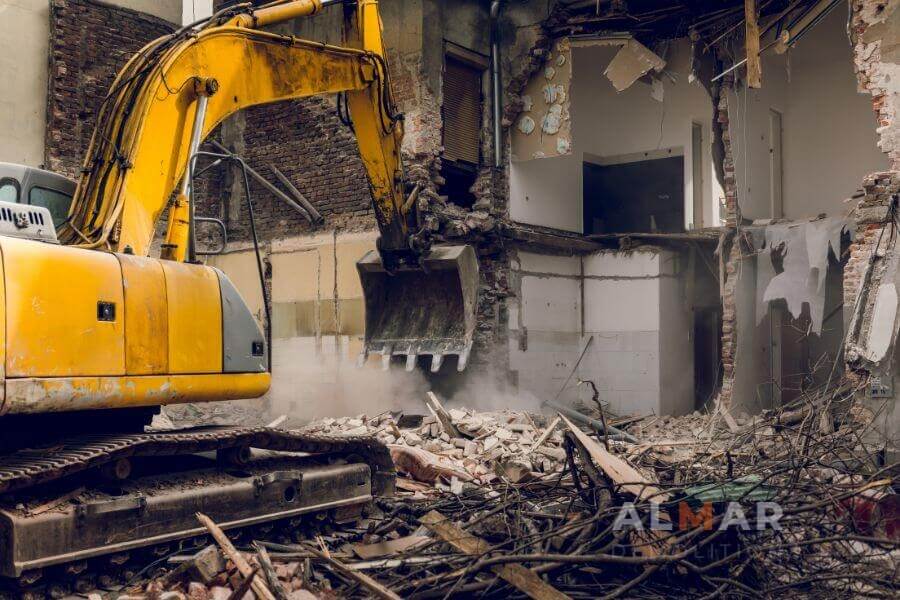 Licensed Team of Demolition Experts: The Foundation of Salvageable Material Handling
Our success in salvaging materials during demolition projects lies in the expertise of our licensed team of demolition experts. Each member of our team is well-versed in the nuances of the Ontario building code, enabling us to identify and separate salvageable materials with precision. With a keen eye for reusable items, we carefully assess the condition and potential value of each material before deciding on its fate.
Strict Adherence to Safety Regulations and Protocols
Safety is a core value at Almar Demolition, and it extends to every aspect of our projects, including material salvage. Before commencing any demolition work, we conduct thorough safety assessments to identify potential hazards and risks. Our team uses the necessary personal protective equipment (PPE) and adheres to safety protocols, ensuring that no one's well-being is compromised during the salvaging process.
Utilizing Modern Equipment for Efficient Demolition
Efficiency is crucial in salvage operations to minimize disruption and expedite the project's timeline. At Almar Demolition, we use modern and reliable equipment to carefully dismantle structures and salvage materials. Our equipment enables us to handle salvageable materials with precision, reducing the likelihood of damage and increasing the potential for reuse.
Environmentally Conscious Approach to Demolition & Disposal
As part of our commitment to environmental responsibility, Almar Demolition prioritizes sustainable practices throughout the demolition process. Salvaging materials is a key aspect of this approach, as it significantly reduces the waste that ends up in landfills. By salvaging materials, we contribute to the preservation of natural resources and reduce the overall environmental impact of the project.
Competitive Pricing and Free, Detailed Quotes for All Projects
We understand that cost is a significant consideration for our clients. That's why Almar Demolition offers competitive pricing without compromising on the quality of our services. We provide free, detailed quotes for all our projects, outlining the salvaging process and the potential value of the materials we can salvage. This transparent approach ensures that our clients know exactly what to expect, with no hidden costs.
Timely Completion of Projects to Minimize Disruption
At Almar Demolition, we respect our clients' time and aim to complete projects within the agreed-upon timelines. Salvaging materials efficiently is one of the ways we ensure timely completion. Our streamlined processes and skilled team allow us to salvage materials with speed and accuracy, reducing the overall project duration and minimizing disruption to your plans.
At Almar Demolition, our expertise, dedication to safety, and environmentally conscious practices define our approach to handling salvageable materials during demolition projects. With a licensed team of demolition experts, modern equipment, and strict adherence to safety regulations, we salvage materials efficiently and responsibly. Our competitive pricing, transparent quotes, and commitment to timely project completion demonstrate our reliability and customer-focused approach.
Next time you require demolition services in the Greater Toronto Area, look no further than Almar Demolition. Contact us at (647) 575-5085 for a free, detailed quote and experience the difference of working with a reputable demolition provider that always delivers what we promise. Together, let's build a sustainable future, one demolition project at a time.