At Almar Demolition, we take immense pride in being your trusted partner in demolition projects across the Greater Toronto Area. With years of experience and an unwavering commitment to safety, we understand the critical role that proper safety gear plays in every demolition endeavor. In this article, we'll delve into why safety gear is paramount, and how our licensed team of demolition experts ensures a secure and efficient process in strict adherence to safety regulations and protocols.
Understanding the Value of Experience
When it comes to demolition, experience is key. At Almar Demolition, we've seen it all. We understand the intricacies of each project, from residential demolitions to large-scale commercial undertakings. This depth of experience gives us a unique perspective on the importance of safety gear. It allows us to approach every project with a keen eye for detail, ensuring that safety measures are meticulously followed to protect both our team and the surrounding environment.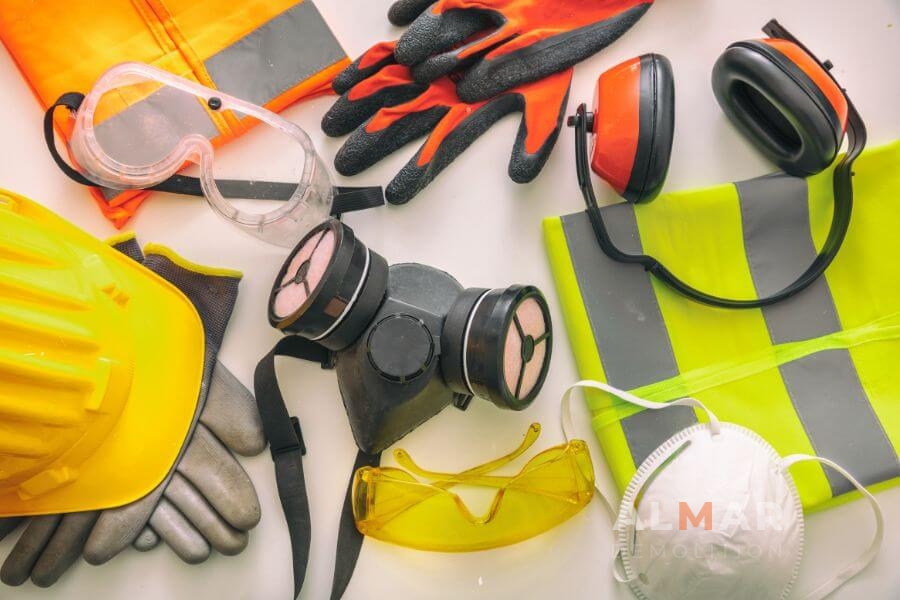 A Licensed Team of Demolition Experts
Our team is comprised of licensed professionals who are well-versed in the building code of the province of Ontario. This expertise is crucial in ensuring that all demolition work is carried out in compliance with local regulations. By entrusting your project to Almar Demolition, you can be confident that every step of the process will be executed with precision and care, prioritizing safety above all else.
Safety is not a mere guideline for us; it's a non-negotiable priority. Our adherence to safety regulations and protocols is unwavering. We recognize that the demolition process involves inherent risks, and we take every precaution to mitigate them. This includes providing our team with the best-in-class safety gear, meticulously maintained and regularly inspected to ensure optimal performance.
Utilizing Modern Equipment for Efficient Demolition
In our pursuit of excellence, we employ modern, state-of-the-art equipment for all our demolition projects. This not only enhances efficiency but also contributes to a safer work environment. Our equipment is meticulously maintained to meet the highest safety standards, ensuring that every project is executed with precision and care.
An Environmentally Conscious Approach to Demolition & Disposal
At Almar Demolition, we are deeply committed to environmental stewardship. We understand the importance of responsible disposal practices in every demolition project. This commitment extends to the careful selection and utilization of safety gear that meets or exceeds environmental standards. By choosing Almar Demolition, you're not only ensuring a safe project but also contributing to a more sustainable future.
We Always Deliver What We Promise
Our reputation as a trusted demolition provider is built on a foundation of integrity and reliability. When we make a promise, we stand by it. This includes our commitment to providing a safe and secure demolition process, supported by the use of proper safety gear. We believe in setting clear expectations and exceeding them with every project we undertake.
In conclusion, the importance of safety gear during a demolition project cannot be overstated. At Almar Demolition, we combine our extensive experience, licensed team of experts, strict adherence to safety regulations, and modern equipment to ensure that every project is executed with the utmost care and precision. Our environmentally conscious approach, competitive pricing, and commitment to timely completion further solidify our position as the premier choice for demolition projects in the Greater Toronto Area.
For inquiries or to schedule a consultation, please contact us at (647) 575-5085. Your project's safety is our top priority, and we look forward to being your trusted partner in achieving a secure and successful demolition.